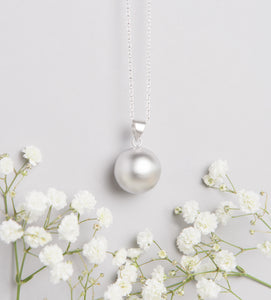 Some say there's a relationship between the times when babies are born and the lunar cycle – how completely enchanting! Our Simple Satin pendant draws inspiration from the soft glow of the moon, resting over baby until their arrival. This traditional chiming pendant has been crafted in brass before being plated with silver, sourced overseas from traditional harmony ball makers, it measures 20mm in diameter.
Presented on a longer length 36" sterling silver chain, ready for resting over baby bump. A range of longer length necklaces including handmade silk cords are also available, so there's a style for every bump.
Perfect for gifting or as special little something for baby and you to share, each necklace arrives beautifully presented in a gift box along with an information card, detailing the tradition of the chiming Mexican Bola pendant.
Composition - Silver Plated Brass Pendant, Sterling Silver Chain
Measurements - Pendant Diameter: 20mm, Chain Length: 36 Inches